Getting Started with TEKS Resource System Curriculum Implementation Guide
Welcome to the TEKS Resource System Curriculum Management System (TEKS R/S) Implementation Guide. This tool is designed to support district and campus leaders in their efforts to provide a guaranteed and viable curriculum for their students. The guide includes basic information, research data, and steps to follow for a successful and effective curriculum implementation.
The importance of having a solid curriculum as the foundation for the instructional work in the classroom cannot be overstated. Without a clear understanding of the scope of content to be taught or learned and a logical sequence merging those learning targets together, even the most engaging and interesting instructional design may fall short of learning targets outlined in the standards, the Texas Essential Knowledge and Skills (TEKS).
The TEKS Resource System Implementation guide is designed to walk district and/or campus, instructional leaders, through the curriculum implementation process. Based on recent research findings, the process outlined in the guide will support districts and/or campuses in their efforts to improve student success. 
---
TEKS Resource Implementation System
There are 3 phases to consider when implementing TEKS Resource System: Pre-implementation, Implementation, and Ongoing/Multi-Year Support. This process is provided to guide effective practice and decision-making. The order of the process steps are flexible based on prior work, organizational capacity, and implementation timing.
---
Basic Information TEKS Resource System
The TEKS Resource System (TEKS R/S) curriculum management system provides curriculum to numerous districts throughout Texas and is supported by all 20 Education Service Centers across the state. TEKS R/S is an online curriculum for the four core academic subjects (science, mathematics, social studies, and English language arts & reading) which includes a scope and sequence, unit maps, clarifications for TEKS Student Expectations, a lesson planner, administrator walk-through tool, content-specific resources, vertical alignment documents, and an assessment item bank.
Some statistics:
10 ESC executive directors and 10 superintendents on the management committee
83% of districts in Texas use TEKS R/S
980 member districts across the state
4,539 campuses use TEKS R/S
Approximately 1.9 million students
---
The TEKS Resource System is a comprehensive K-12 curriculum management system that analyzes the Texas Essential Knowledge and Skills (TEKS) and provides a coherent sequence of content for teachers. TEKS Resource System provides a multitude of documents that enhance a teacher's ability to plan for quality instruction. TEKS Resource System includes:
Vertical Alignment Document (VAD): Document that aligns Student Expectations across grade levels and provides specificity so teachers understand the changes in content and/or rigor across grade levels.
TEKS Clarification Document/Enhanced TEKS Clarification Document (Math Only): Detailed specificity of course or grade-level specific Student Expectations.
Year at a Glance (YAG): Document designed to provide a snapshot of the entire year's instructional plan. The Year at a Glance is a map and pacing guide for units of study.
TEKS Verification Document (TVD): A companion document to the Year At A Glance which lists the Student Expectations for a grade level/content area and indicates when an SE is a Direct Teach (T), Ongoing (O) or Developing (D).
Instructional Focus Document (IFD): Unit planning guides that provide an overview of the unit, overarching ideas,unit concepts & understandings, student misconceptions/underdeveloped concepts, key vocabulary, unit-level specificity of the TEKS, ELPS, and Performance Assessments.
Performance Assessments: Assessment tasks that align with the learning objectives of the unit. These Assessments bundle multiple student expectations into one project-style assessment activity, are found in the IFD, and include rubrics.
Unit Assessment Items:The unit assessment item bank is tightly aligned to the units. The item bank has been designed so that districts have the opportunity to build an assessment that is best suited for their students.The Assessment items are designed to resemble STAAR. The Assessment Center also includes formative assessment items and a "Check for Understanding" feature which allows teachers to administer an online formative assessment to collect aggregate class data.
STAAR Analysis: Analyzes previous STAAR Assessment items based the revised Bloom's Taxonomy as well as on Depth of Knowledge. The documents also provide plausible rationale for student errors.
Other Resources: A variety of content specific resources for each subject area that provide support to teachers.
TEKS R/S vs. Non-TEKS R/S Research Study
Student achievement growth HIGHER in TEKS R/S districts.
ELL achievement growth HIGHER in TEKS R/S districts.
MAXIMUM growth in districts that utilize: YAG, IFD, plus one more component.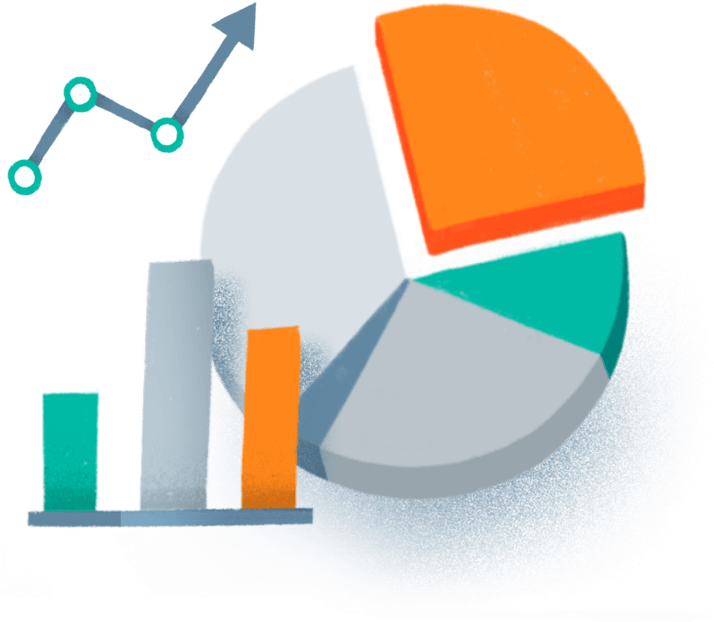 Successful TEKS Resource System Implementation
A research study conducted by Region 10 Educational Service Center on TEKS Resource System analyzed how districts used the curriculum and the relationship this use had on students. Researchers wanted to know not only whether teachers had access to TEKS R/S, but exactly how the components were utilized. Districts were asked what system documents were required to be used during the planning sessions in their districts and how closely they were followed.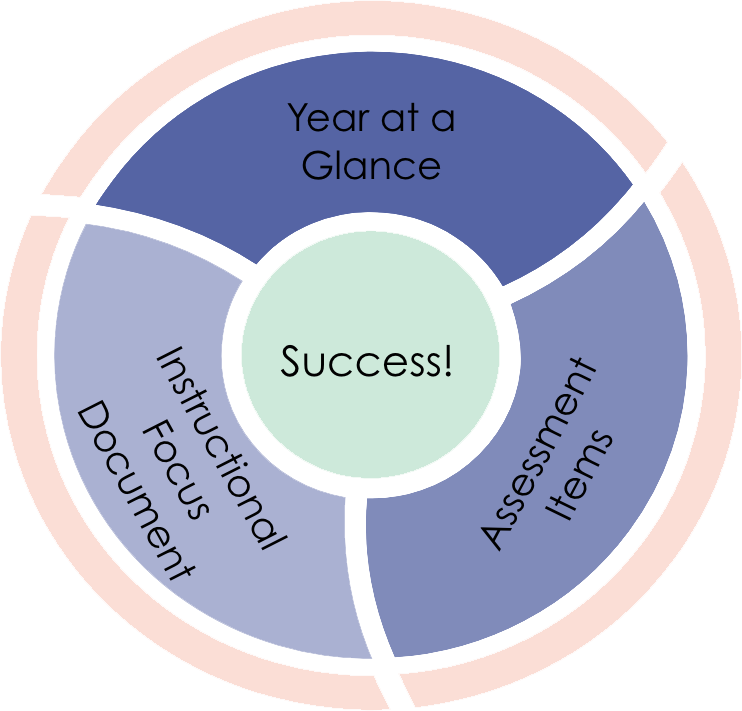 Based on the study subjects' responses, three key documents that when routinely used seem to predict greater success in planning for instruction:
Year at a Glance (YAG)
The one-page view of the YAG shows how the units of instruction are laid out for a specific course for the year. The pacing of content over a year of study has been developed based not only on research of the progression of skills, but also multiple years of feedback from teachers in the field in regards to what works best at a specific grade level and subject. Having this timeline helps teachers manage their instruction to coherently address content with an emphasis on covering material before state accountability testing windows.
---
Instructional Focus Document (IFD)
The IFD is a planning document that helps teachers focus on what needs to be addressed in a given unit of instruction. The sections of the IFD are designed to give an overview of the content, introduce guiding questions for learning, include key academic terms, as well as supply TEKS Student Expectation (SE) clarification and specificity. The IFD pulls multiple elements together into one planning document which has been refined over the years based on research and educator feedback.
---
Assessment Items
The assessment item bank gives teachers a sample of the ways a specific TEKS SE has been or can be assessed on STAAR. Items are designed to match the cognitive rigor as well as the procedural complexity of the state test. Having a significant bank of items from which to choose provides teachers with valuable data to analyze student mastery.
---
Relative Student Growth by Implementation Model
According to the data, using one or two of these key components can impact student growth over time. However, using the YAG, IFD and assessments shows a much more noteworthy, positive impact on student growth. Research shows that simply covering content and planning activities falls short of increasing student learning. In Understanding by Design (2005), Wiggins and McTighe explain that the problem is not with "coverage" nor "activity" as such, but more that there is no rationale connecting the approaches to deep and meaningful learning. One observation they offer teachers is that, "You may… discover that you aren't quite as clear as you might be about what, specifically, your students should leave understanding… you will be somewhat disturbed by how hard it is to specify the understandings and what they look like in assessment, and how easy it is to lose sight of goals related to understanding".
TEKS Resource System components are designed to support backward design planning: identifying desired results, determining acceptable evidence, and planning effective learning experiences and instruction to achieve those results.
Implementation Timeline & Resources Quick Reference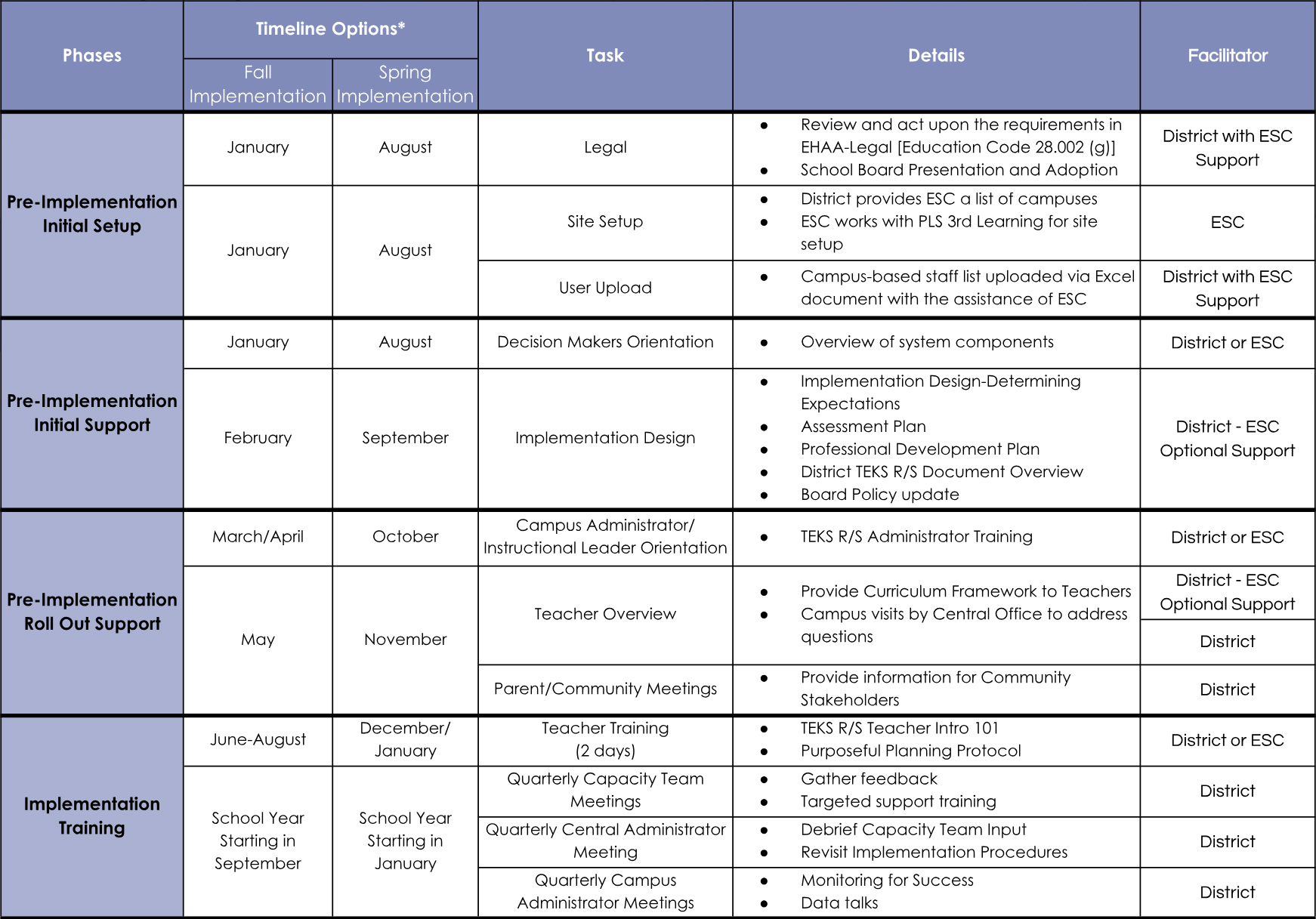 ---
*Timelines are based on best practice but may be adjusted based on the goals of the district.
Resources Quick Reference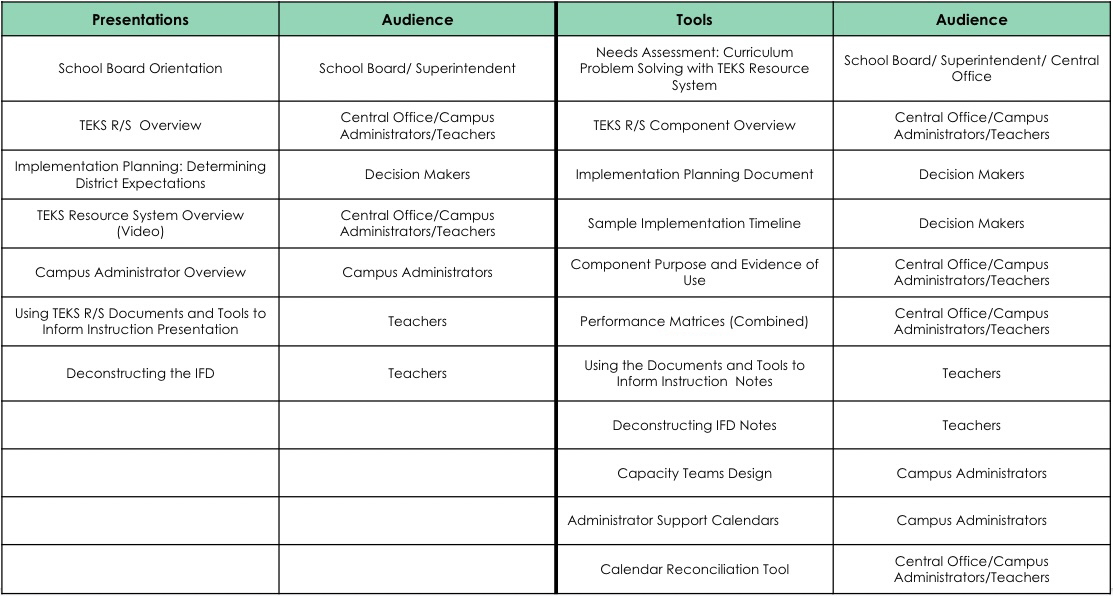 Implementing TEKS/RS News